anti-Anti- CD31 (PECAM-1) Rabbit Monoclonal Antibody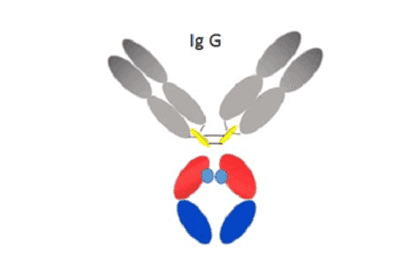 Size

Anti- CD31 (PECAM-1) Rabbit Monoclonal Antibody
Clone:
RM247
This antibody reacts with:
Human
Antibody host:
Rabbit
Form of antibody:
Liquid
Target of this antibody:
PECAM-1
This antibody has been succesfully tested for use in following methods:
IHC, WB
Shipping conditions:
gel pack
French translation
anticorps
Isotype:
Rabbit IgG
Clonality of antibody:
Monoclonal
Latin name
Oryctolagus cuniculus
Purification method:
Affinity purified using protein A
Storage information:
Shelf time: 12 months in temp.: -20 deg.C
Alternative names of antibody target:
EndoCAM, GPIIA', PECA1, CD_antigen: CD31, PECAM-1
Formulation of this antibody:
In 50% Glycerol/PBS with 1% BSA and 0.09% sodium azide
How to handle this antibody:
The antibody solution should be gently mixed before use.
Recommended usage:
IHC: 1:1000 -1:2500 dilution; WB: 1:1000 - 1:2000 dilution
Immunogene sequence:
A peptide corresponding to the cytoplasmic domain of human CD31
Properties
If you buy Antibodies supplied by Biovision they should be stored frozen at - 24°C for long term storage and for short term at + 5°C.
Description
This antibody needs to be stored at + 4°C in a fridge short term in a concentrated dilution. Freeze thaw will destroy a percentage in every cycle and should be avoided.Antibody for research use.
About
Monoclonals of this antigen are available in different clones. Each murine monoclonal anibody has his own affinity specific for the clone. Mouse monoclonal antibodies are purified protein A or G and can be conjugated to FITC for flow cytometry or FACS and can be of different isotypes.Rabbits are used for polyclonal antibody production by Biovision. Rabbit antibodies are very stable and can be stored for several days at room temperature. Biovision adds sodium azide and glycerol to enhance the stability of the rabbit polyclonal antibodies. Anti-human, anti mouse antibodies to highly immunogenic selected peptide sequences are" monoclonal like" since the epitope to which they are directed is less than 35 amino acids long.
Background information:
Induces susceptibility to atherosclerosis. Cell adhesion molecule which is required for leukocyte transendothelial migration (TEM) under most inflammatory conditions. Tyr-690 plays a critical role in TEM and is required for efficient trafficking of PECAM1 to and from the lateral border recycling compartment (LBRC) and is also essential for the LBRC membrane to be targeted around migrating leukocytes. Prevents phagocyte ingestion of closely apposed viable cells by transmitting 'detachment' signals, and changes function on apoptosis, promoting tethering of dying cells to phagocytes (the encounter of a viable cell with a phagocyte via the homophilic interaction of PECAM1 on both cell surfaces leads to the viable cell's active repulsion from the phagocyte. During apoptosis, the inside-out signaling of PECAM1 is somehow disabled so that the apoptotic cell does not actively reject the phagocyte anymore. The lack of this repulsion signal together with the interaction of the eat-me signals and their respective receptors causes the attachment of the apoptotic cell to the phagocyte, thus triggering the process of engulfment). Isoform Delta15 is unable to protect against apoptosis. Modulates BDKRB2 activation. Regulates bradykinin- and hyperosmotic shock-induced ERK1/2 activation in human umbilical cord vein cells (HUVEC).